EACH COMPANY, EXECUTIVE, MID-MANAGEMENT, AND INDIVIDUAL CONTRIBUTOR EMPLOYEES KNOW COMPANIES MUST EXCEL IN PERFORMANCE OR THEY WILL PERRISH. REGARDLESS OF THE MISSION, GOALS, OR FOCAL POINTS, THE GOAL IS ALWAYS TO ENHANCE PERFORMANCE. HOW MANY COMPANIES HAVE THE RIGHT TOOLS IN PLACE FOR MAXIMIZING REVENUE, SALES, EMPLOYEE ENGAGEMENT, CUSTOMER CENTRISM, ETC.
The "L.E.A.D. Up" Method answers this question by enhancing sales, service, and operational performance by focusing on the three key elements:
People
Processes
Technology
We have learned that initiatives in three vital components will increase revenue, sales, and other critical metrics by evaluating each area through an assessment process. They are:
The result is a scheme for driving performance like no other created. Our signature program, "L.E.A.D. Up" Method!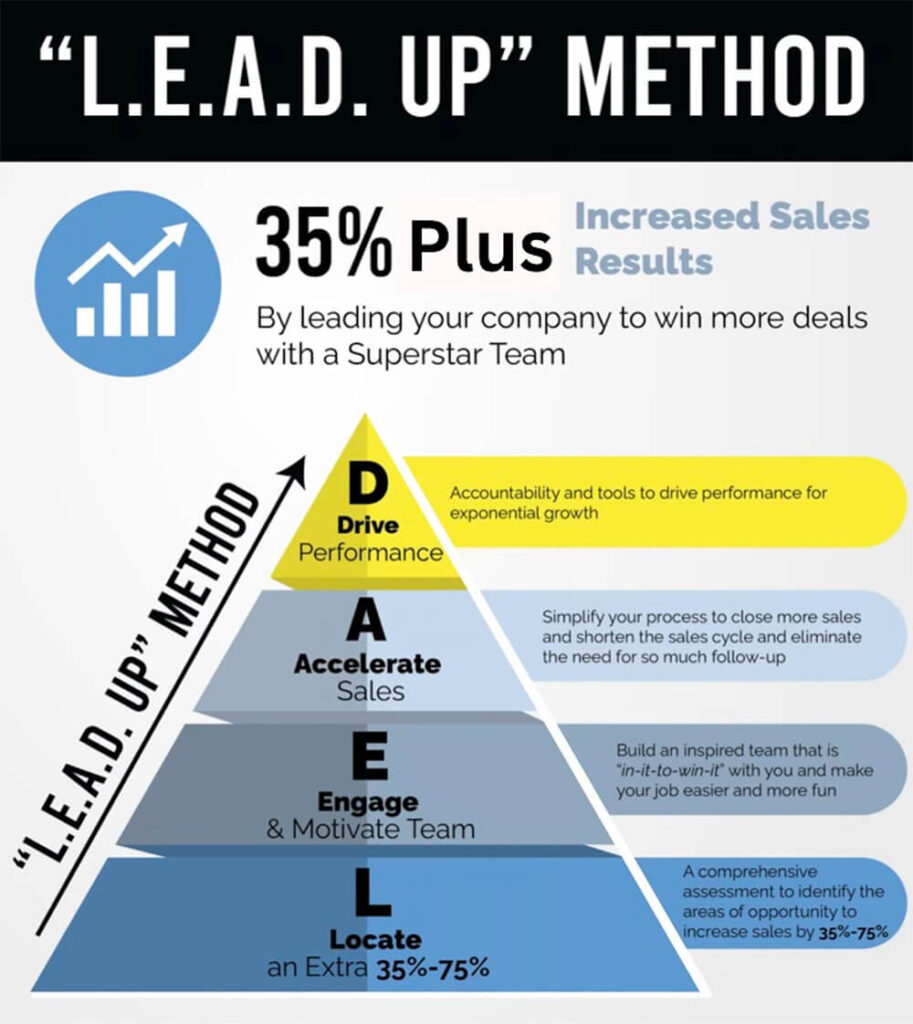 LOCATE areas for maximum increases through a company assessment process.
ENGAGE employees at the highest levels through customized motivational actions streamlined to
achieve critical goals.
ACCELERATE performance by customized coaching, training, and workshops reviewing items like selling
skills, sales cycle, etc.
DRIVE performance with solid accountability measures put into place, maximizing revenue, sales, or
increased metrics.
We know each client's business and culture are different. This model is customizable to each client and starts with LOCATING opportunities for improvement through a complete assessment. The following three pillars are the business's focal areas, implemented once the assessment identifies critical enhancement areas.
Up next in the Method, is ENGAGING employees through tangible and intangible motivational means. We ensure these means directly connect to the achievement of hitting revenue, sales, and commitment thresholds.
The third pillar in our model is ACCELERATE, where we focus on speeding up areas and enhancing employee competencies and skill sets. We apply our consultative coaching, training, and workshops to accelerate revenue and culture-producing areas for employees and staff members.
The final pillar in our Method is DRIVE; we drive all performance and cultural means by working with the management team on coaching, training, and implementing accountable measures. We have witnessed exceptional improvement by working with management personnel in this area. Most businesses find holding people accountable, placing the proper responsible steps in place, or coming across as 'too direct' the most difficult to execute consistently.